Senior Day Loss Wraps Up the 2022 Women's Soccer Season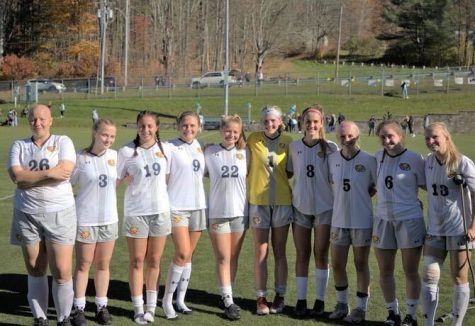 An early Bridgewater State goal by Skylar Conrad set the tone early for the Bears, as they cruised to an easy 3-0 win over MCLA on their Senior Day. With the loss, the Trailblazers finish the regular season at 2-10-3, which will not qualify them for the MASCAC tournament.
Before the game, the team honored their 10 senior members of the team: Katelyn Piccolo, Em Marlay-Wright, Sophie Elser, Savanna Amaral, Skyelyn Haynes, Claudia Bresett, Sarah Tomczyk, Jillian Currier, Alyssa Porter, and Jess Halverson.
The team expressed how much each of them meant to the program and how dearly they will be missed as they move on to the next chapter of their lives.
"Seeing their progress on the field in four years is special, but I also remember what they were like as people walking in the door," said Head Coach Deb Raber.
"That's our primary focus, better people make better Trailblazers… To be able to watch them progress as a person, that's something special," she continued.
Whilst being leaders both on the field and around campus, the rest of their teammates have been able to pick up advice and lessons that they will take with them for the rest of their time as student-athletes at MCLA.
"The thing that the seniors have taught me, and I'll take with me is just being kind and being there. Throughout the whole season, they have shown up and been there for us no matter what or when we needed it. It was a huge deal to us, and they became like older sisters. If we can support the incoming players the way they did for us, it is all because of them and the way they showed their love and kindness for us," said Cidnee Frymire '26.
With that, it was game time, and it was all Bears soccer from the ground running. Only two minutes and 20 seconds in, Skylar Conrad would head in a goal assisted by Erin Clancey and Michelle Belcher to give Bridgewater State an early 1-0 lead. From there, more goals kept coming, with the Trailblazers accidentally knocking the ball into their own net to make it 2-0 at the 13:48 mark. Just under a minute and a half later, Conrad would add an assist on Michelle Belcher's 11th goal of the season to make it 3-0 just over 15 minutes into the game.
On MCLA's side, there were very few offensive opportunities, as the team had only a combined three shots, with one being on goal, compared to Bridgewater State's 44 shots and 23 being on goal.
The game would remain scoreless throughout the rest of the first and second period and would end three to zero. With the loss, it officially concluded the 2022 MCLA Women's Soccer Season, and the end of ten NCAA careers for the Trailblazers.
As their careers wrap up, it has been an emotional time. Going into her last game, Currier talked about how much the program meant to her, as well as how the program has been all that she hoped for and more.
"In high school, I was never given proper treatment as a goalkeeper, so I had high expectations entering the program with Coach Raber being a goalkeeper herself," she said. "My expectations were exceeded tremendously. I've learned more and achieved more than I ever thought was possible as a keeper and even as a student through the program. I'm not the same player I was when I came in my freshman year, and I'm extremely proud of that fact," Currier continued.
Reflecting on the season, the team feels that the final record does not tell the whole story, and the time and effort everyone put in from top to bottom.
"I think if you take it from a numbers point of view, it's a different story," said Raber. "They're so many things that happen behind the scenes that are never attached to a team's record. I'm very proud of our program and how hard our team has worked, considering our first game at Nichols [College] to how far we've progressed since then."
"It's just been leaps and balance for our progress, and I'm excited for the future and what we all have to look forward to," Raber continued.
With the season ending, the returning 11 players on the roster already have ideas of what work needs to be put in to come back even stronger in 2023. Physical and mental work, a strong spring season, and getting next year's freshmen acclimated into the program serve as the ways to be successful next year.