Radiology Program Aims to Prepare Students for Successful Careers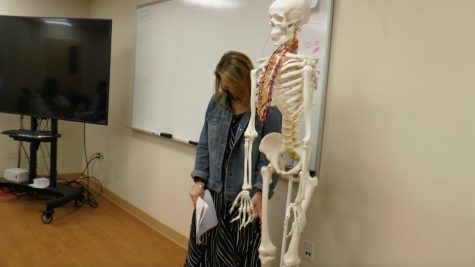 The Radiology program is focusing on the success of its students and hopes to have a positive impact on the local medical community.
"All of our students that graduated last semester had job offers before they even graduated and before they even took their boards, they all had job opportunities and offers. Some of them had multiple," said Julie Walsh, Program Director of the Radiology Program.
In an interview with the Beacon, Walsh expressed the need for technologists and the profession locally.
"There is such a need for technologists in the area, at all of our local hospitals. They're using travel techs, technologists who sign up with a company and then go wherever the need is in the country, and so all our hospitals are using that because they don't have the technologists to fill their departments. So, there is a real need, there are sign-on bonuses, there are shift differentials in order to get people into this profession, so it's desperately needed," Walsh explained.
Behind Registered Nursing, Radiologic Technology/Science was the most popular undergraduate major at Southern Vermont College (SVC). After the closing of SVC in 2019, MCLA took on its Radiologic Sciences program as a Teachout along with many SVC students.
"We still have all of the same clinical sites that we had when we were at SVC and we've added Berkshire Health, so if anything, our clinical sites have grown," said Walsh. Rutland Hospital, Brattleboro Hospital, Glens Falls Hospital, Southern Vermont Medical Center, Albany Med, and Berkshire Hospital are their clinical sites.
Since 2020, the program has grown, and the department hopes for it to continue to do so. Walsh, a former teacher at SVC, communicated that as a public school, more grants are available, and they are more involved in the community than SVC was.
Clinical involves, "Our students go in scrubs and are part of the department…The technologist is right with them as they do everything and they start in the normal phase of learning, they observe first, then they start assisting and then they start performing. What they need to do is get the competencies that are required in order to sit for their boards. So this semester, our junior students have to get three competencies, so they have to perform three exams completely on their own," explained Walsh.
The students go to clinical in a variety of settings such as urgent cares, orthopedic offices, and operating rooms, getting multiple important experiences. Therefore, not only is it important for them to have technical skills but communication skills as well.
"Communication is half of our profession, you have to be able to communicate with fellow technologists, with patients that are in pain, patients that can't communicate with you, patients that have had major trauma going on. Communication and getting that patient from where they are to where you need them to be and doing breathing instructions and positioning, you have to be a really good communicator," said Walsh.
The department prioritizes the success of students to get them into these important roles.
"Our goal is to have students succeed. If we have to spend time doing private tutoring, having students meet us on teams at night just so that they can get through, we all do that and are willing to do that," said Walsh.
The department encourages students to join the program.