Young Roster, Hard Work Crucial to Upcoming Men's Basketball Season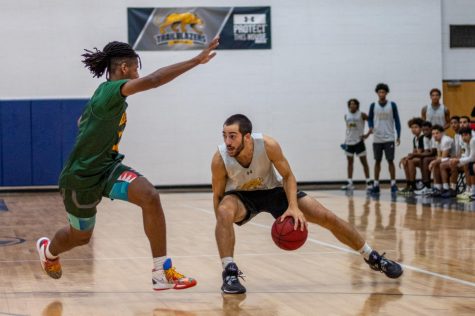 The MCLA Men's Basketball team entered the preseason this year coming off a heartbreaking loss. Up one with eight seconds left in last year's MASCAC quarterfinals, Fitchburg State's Dayne Allen would hit a pair of clutch free throws to take the lead by one. The Trailblazers would miss two shots to take the lead, and just like that, the season would end when everyone thought it would continue.
Nevertheless, the team has been able to use that experience as fuel and motivation to bounce back and improve this upcoming season.
"Obviously, we thought we had that one," said Head Coach Derek Shell. "We really thought we let that one get away…but just in conversations I had afterwards before we went to our summer break with veterans I knew were coming back, they were all excited and optimistic to get back to work."
The team last year went 10-13 overall, facing adversity and different challenges along the way, specifically the COVID-19 pandemic where restrictions didn't allow fans at games and altered the availability of players on game day numerous times throughout the season. With the restrictions being lifted this year, the mental block from COVID is being unlocked for all the players, allowing them to stay optimistic and be able to give their all on the court.
"One thing I can say is that… our players catching COVID was a big hit, because we were just dropping one by one, and sometimes we didn't even have enough players for practice," said Mamadou Diablo '24. "This year, we can't control injuries once again, but I love the team we have. We all fight hard, and we all wanna win, so that is a plus," he continued.
The roster going into this year loses seniors Lukas Zelazo and Bright Afful, along with All-MASCAC second-team player Hayden Bird. However, the returning players are very optimistic about the incoming freshmen who are joining the roster this year.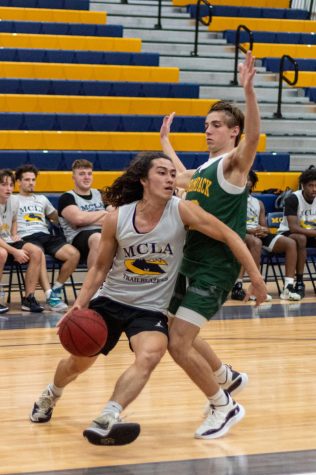 "One thing about the freshmen we have is even when they're making mistakes, or they are unsure of something… they have been open to critiques of the returning players and the coaches," said Dylan Morris-Gray '23. "They have all been ready to learn and just try and get better."
The team is so optimistic about the underclassmen, that many key returners expect them to make an impact in the early regular season right away, especially with the talent and size they bring on the offensive and defensive ends.
"I do think a number of freshmen will play right away," said Shell. "Jackson Potter, Jayden Mills I think will have an immediate impact in some capacity. We're not a big team, they have some size, but they're also pretty good basketball players, so I'm excited about that."
The preseason itself consisted of team practices focusing on technique, as well as learning and demonstrating the offensive and defensive plays. The team further got to demonstrate what they have learned with scrimmages against SUNY Adirondack and Anna Maria College.
Despite losing both games, the team is optimistic about what they have seen, as the bench players were getting the majority of the minutes and kept both games extremely close.
"Preseason was amazing," said Diablo. "I believe we lost the first game (SUNY Adirondack) by five with our starters and rotation guys not playing much, just seeing what our bench can do and our newer guys can do, and they exceeded expectations."
Shell's ultimate goal for the team is to have the team play their best basketball by the time the playoffs begin. To do this, the main area of focus during the preseason is players being able to show cooperation and teamwork in order to understand each other's strengths and weaknesses on the court and create the best opportunities to score or get a stop on defense.
"I think my vision for this team coming into the season is just getting guys to learn how to play together," he said. "Not only from an unselfish standpoint but really trusting your teammates that they are going to be in the right spot, or they are going to make the right play," he continued.
Above all, the team is excited for the opportunity to come back from last season, and with the team finishing sixth out of a possible seven teams with 11 points in the MASCAC preseason poll, the team is hungry to get out there and bring back the MASCAC championship.
Morris-Gray is looking forward to building on the school spirit from the team last year, with the fans expecting a gritty play style of basketball, and no matter the result, will fight to the end.
"My only message would be that our team is going to play hard every single game, and I hope they take the same patient approach as we do, and just that every single game we're trying to win, and we're also just trying to build towards winning the championship in February," he said.
"Every game is just gonna be hopefully a great experience for fans. Bring the hyped energy, and I think we'll be able to have a lot of fun this season," he continued.
The Trailblazers begin their season on Tuesday with a home game against Norwich University, followed by a Friday night game against SUNY-Plattsburgh, and will travel to New Hampshire to take on Division I Opponent, Dartmouth College, on Saturday.