Athletic Training: The Backbone of the Athletics Department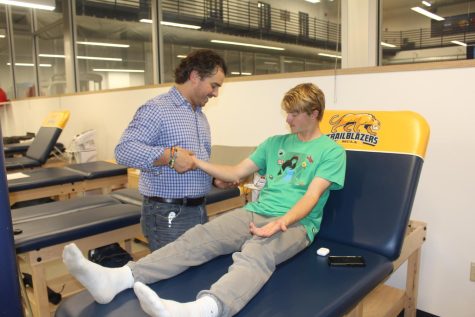 Athletic training is a key part of athletics here at MCLA, and head athletic trainer Matt Boillat has been the driving force in keeping athletes healthy since 2008.
Boillat graduated from Quinnipiac University with a bachelor's degree in Athletic Training/ Sports Medicine in 2003. He then moved to California where he got his master's degree in Kinesiology at San Jose State University.
While in California, Boillat worked as head athletic trainer at Menlo-Atherton High School and worked with the San Jose Sharks in the NHL. In 2006, Boillat began work at Merrimack College in Andover, Massachusetts where he worked as an instructor for the Introduction to Sports Medicine lab and Therapeutic Rehabilitation lab.
Boillat came to MCLA in 2008, he is a Berkshire native, and volunteers for the Clarksburg Volunteer Fire Department. Boillat is the third captain for the department, "we do all the things that paid firefighters do, we go to medical call, vehicle accidents, fires, any type of emergency we end up attending to."
As head athletic trainer at MCLA, Boillat's job is to primarily take care of MCLA athletes from performing preventative care to helping them care for injuries and referring them to orthopedic doctors if necessary.
There is also a mental health aspect to Boillat's care, "physical injuries are often connected to mental health, and when you have an athlete who is being competitive and playing for a long period of time that gets hurt it is very mentally taxing for them, so talking with them, and supporting them is a huge part of my job," said Boillat.
Boillat and athletic training are very important to student-athlete wellbeing, "taking care of my body and having access to athletic training has allowed me to help myself recover better," said Men's Basketball player Dylan Morris-Gray '23.
In 2019 MCLA began renovations on the Campus Center, including replacing the pool with a new athletic training room, fitness center, athletic offices, and an indoor track. The new athletic training room is three times the size of the old one, and includes state-of-the-art athletic training equipment.
New equipment includes electric stim ultrasound units, Game Ready machines, Normatec boots with multiple attachments, new whirlpools which stay permanently filled, a new ice machine, new hydrocollator, a fanbike, and all new tables.
The new hot and cold whirlpool tubs are the highlight of the training room, "the tubs being permanently filled is helpful, that way athletes can go in them much easier. The old tubs had to be filled, and the temperature had to be regulated, whereas the new ones do all that for you," said Boillat.
For athletes, "the best thing about the new training room is the hot and cold whirlpool tubs… Being able to have access to the whirlpool cold tub for recovery after a hard practice or games as well as having the hot tub for getting relaxed and loose is a great tool to have," said Gray.
From the functional support of the new equipment to the health support Boillat offers, MCLA's student athletes are set to succeed throughout their seasons.