Black and Queer Artist Jake Blount Gives Historically Inspired Concert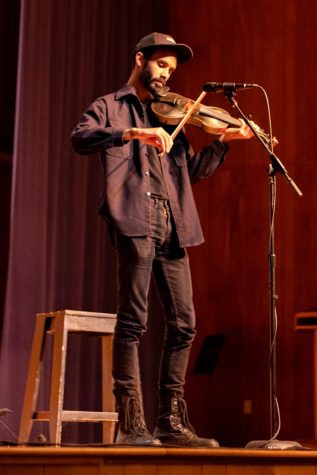 A journey through historically inspired music was led by one artist, his violin, and his banjo at the Church Street Center.
There was a positive student and community turnout for instrumentalist, vocalist, and scholar of Black American music, Jake Blount on November 2nd.
"I thought the performance was incredibly soulful and vibrant and I love how he pulled us into these musical worlds across the United States, like these hidden sorts of seeds of Americana that you don't often get exposed to. I like how it took those roots and put them out in such a dynamic and colorful way for us as listeners," said Benjamin Ross '24.
Blount began with some songs from his new album but throughout the show played multiple different pieces while explaining some of their histories.
"It's (his new album) called The New Faith, and it is the latest installment of Smithsonian Folkways recordings, African American legacies series. If you're not familiar with what I do, I dig up a lot of tunes and songs from black and indigenous musicians, mostly from the southeast but also farther at times, and tell the stories that come alongside those tunes," Blount explained to the audience.
As a Black and Queer musician, Blount challenges the dominant White narrative in American Folk music. His work speaks about the African roots of the banjo and the subtle, yet profound ways African Americans have shaped and defined the amorphous categories of roots and Americana music.
When asked in a brief interview with the Beacon why he does what he does, Blount answered, "I think it's just being a part of a culture, the traditional music came down a lot through the church in my family and a couple of those songs I sang, my grandparents knew before I dug them up somewhere because they heard them in church when they were children. It was there but I think it's kind of about historical text to me and wanting to know more about my family and our history and that being the way."
Some pieces were strictly instrumental while others had vocals, but all pieces were captivating. Matt Lewellyn '26 said, "I really liked just kind of closing my eyes and getting sent into some other world."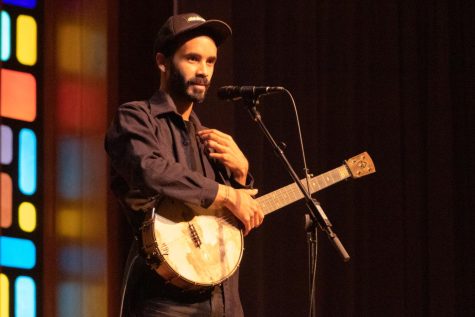 In his descriptions, Blount expressed that he has spent a lot of time in West Virginia finding inspiration and new pieces. He later explained some of his processes after finding these historical pieces.
"If I'm doing a solo performance like this and I'm doing a lot of fiddle tunes and stuff there's a lot that I keep exactly the same about them in terms of the bowing patterns and note choices but they are also things that wind up not sounding anything like the original recordings, even when I copy the bowings exactly. I'm going to sound like myself no matter what but I always try to do a deep study of the original and then also be open to where my own efforts take me," said Blount.
Blount's performance was in coordination with two MCLA classes to create both an educational and live performing arts event and is supposed to be the first of more alike events.