Love Smoothies and Supporting Local Businesses? Check Out Berkshire Blends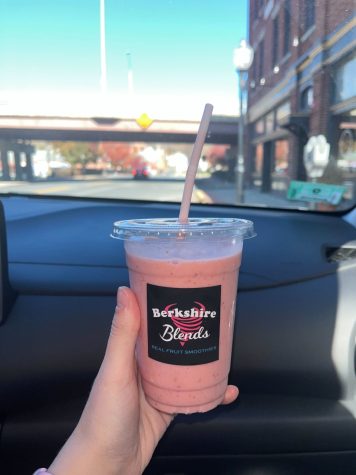 Stephanie Burdick, a small business owner residing in Florida, Massachusetts had dreamt of opening her own business for a while. As of May 2022, she accomplished that with the new smoothie shop, located at 20 Marshall Street in North Adams, Berkshire Blends.
Burdick thought about opening her smoothie business in Pittsfield but decided that with the traction of Mass Moca within walking distance, Marshall Street was the perfect location.
The menu holds a wide variety of fruit smoothies, coffee, smoothie bowls, muffins, cookies, etc. "Going into winter, I'm trying to do a weekly soup special, and I'm also just starting to try sandwiches to help get through the cold months, because not everyone wants to drink a cold smoothie when it's 30 degrees outside," Burdick told the Beacon, in hopes of broadening the number of customers during the wintertime.
There are many different concoctions of smoothies to choose from, including some seasonal ones (such as apple cinnamon), and "kickers", which are smoothies with Red Bull.
According to Burdick, the most popular smoothie sold is "Berkshire's Best" which is a strawberry banana smoothie. "I think it's because people are comfortable with strawberries with banana. I mean, who doesn't know about that flavor?" Burdick said.
Berkshire Blends makes decent smoothies that consist of the fruit listed on the menu, milk, and yogurt. It's a great healthy alternative if you're looking for a refreshing snack after a workout, or even just as a treat! There are two sizes available, the smaller size is a good idea if you're just looking for a quick drink, but if you want something more filling, the large is for you.
Business has been going well for Burdick thus far. "I actually expected to see more [people visiting Mass Moca]," said Burdick, "It's crazy when 1,200 people come into town for an event and don't visit any local businesses… My business comes mostly from locals, and I have a lot of regulars who are from town."
"I love to see college kids and I even offer a loyalty card, where you can buy five smoothies and get one half off, and if you buy five more you get a free one," Burdick told the Beacon, when asked about how college life in town affects business.
Plans for Berkshire Blends' future include more seasonal flavors and making more specials for the menu.
Overall, Berkshire Blends is a great place to try, with lots of options if smoothies aren't your cup of tea. You can follow Berkshire Blends on all different social media platforms, including Facebook and Instagram, for more information about the business, and for special announcements!
Instagram: berkshireblends
Facebook: Berkshire Blends