Theatre Department Kicks Off 2022-2023 Season with "The Tempest"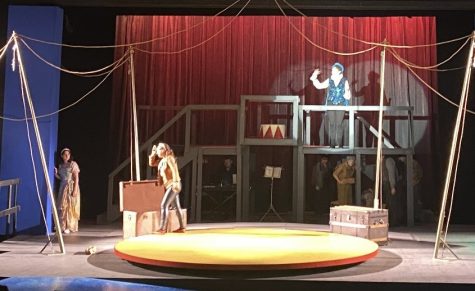 The MCLA Theatre Department put on their opening performance of "The Tempest" on November 4 at 8pm, kicking off their 2022-2023 season.
"The Tempest" is a play by William Shakespeare which follows Prospero, portrayed by Caitlyn Falzone '23, a wizard who uses his magic to torment the survivors of a shipwreck, and his plan to restore the loss of his throne from his villainous brother, Antonio, portrayed by Comfort Acheampong '23. The story tackles themes of freedom and forgiveness, as Prospero eventually learns that revenge is not always the answer and the conflict is resolved.
Throughout the play, Prospero is a protective father over his innocent and naive daughter Miranda, portrayed by Ysabel Cardona '25, who eventually falls in love with Prince Ferdinand of Naples, portrayed by Rachel Lamarre '25. Other integral characters include the magical spirit Ariel, portrayed by Zurie Adams '23 and Prospero's slave, Caliban, portrayed by Howard Brown. Ariel and Caliban are both under the control of Prospero, with both wishing for their freedom. "The Tempest" is described by the MCLA Theatre Department as a "timeless story of love, revenge, and redemption."
Deviating from the original work, this production of "The Tempest" has a 1920s circus theme, whereas the original play was set in 17th century England. A new character added to the cast who does not appear in the source material is the Ringmaster, portrayed by Jheneay Watkins '24. The Ringmaster's main role in the play is to narrate the story and set each scene, also regularly breaking the fourth wall and providing comedic commentary on what is occurring onstage.
"The Tempest" was directed by Tom Truss and featured music direction from MCLA alum Trevor Wheelock '19. Audience members praised the cast for their performances, as well as the set and costume designs.
"It was definitely one of the best plays that I have seen so far at MCLA," said Domenica Gomez '23. "All of the actors were really in character, and it looked like everyone was having fun and were genuinely passionate about doing theater. I saw a production of "The Tempest" when I was in high school, but this version was definitely my favorite. Some characters were really funny and I was smiling the entire show!"
"The cast and crew did a great job at bringing the show to life," said Miranda Maciejowski '23. "I loved the costumes and overall design of the show."
"The Tempest" has three more additional shows coming up: Nov. 11 at 8pm, Nov. 12 at 8pm, and Nov. 13 at 2pm in the Venable Theatre. The show is 90 minutes total with no intermission. Tickets are free for MCLA students, $5 for faculty, staff, and alumni, and $10 for the general public. Tickets can be pre-purchased online at www.eventbrite.com/e/the-tempest-tickets-439883702997 or can be purchased at the door.