MCLA Hoops Are Back for First Home Game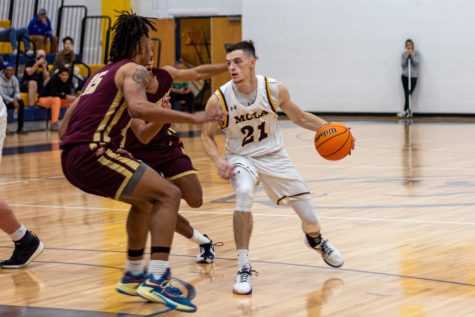 Men's Basketball had their home opener on Tuesday, Nov. 8th against Norwich University.  The trailblazers lost in a very close 77-76 finish, fighting back hard from a fifteen point deficit in the last 15 minutes.
Noah Yearsley, a graduate student, joined the 1000 point club in the 2nd period. Six years at MCLA and "just consistent hard work" has led him to this point, said Yearsley.
Both Dylan Morris-Gray '23 and Yearsley put up 23 points each.  Yearsley was assisted by Morris-Gray and made a 3 point jump shot to close Norwich's lead to 75-74.  In a crucial play following the three pointer, MCLA used an aggressive defensive strategy that caused the Norwich player to step out of bounds.  Yearsley made use of the opportunity and scored a layup with 15 seconds remaining, putting MCLA in the lead.  Unfortunately MCLA could not hold on when Norwich player Owen Liss dunked with 2 seconds remaining.
The energy in the gym was magnetic due to the packed student section. "The energy was great, the fans brought an amazing vibe to the gym and it felt great being back out there with the fans," said Morris-Gray.
Head Coach Derek Shell is hopeful of the season moving forward and was happy to see that "[MCLA] bounced back in the second half, especially since we were down a significant amount.They didn't quit, and were more aggressive.  If we do that from the outset then hopefully we can get some different results moving forward," said Shell.
Morris-Gray accounts the shift in energy in the second half to, "knowing that we had to make something happen, and hopefully we can get to a point of bringing that aggression all game."
Yearsley is also hopeful of the season moving forward. "We have a lot of young guys so it's going to take some time, but we are starting to look a lot better," said Yearsley.  "We want to focus on taking it day by day instead of looking forward to the championship because we can't win it tomorrow, we just want to get 1% better everyday."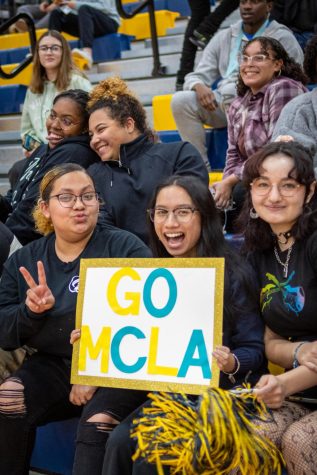 The team has 10 first years on the roster, and three seniors.  Along with being a young team they are also on the shorter side, with five players being under 6 foot and 10 of their players being under 6'3.
Being one of the smaller teams in the conference, "is motivation to work harder, there are some bigger teams we will have to face and we can't hide from it, the key is to do the work before they can get on the inside" said Shell.
"In order to get better we made a tough first semester schedule to give us a test and get us ready for those conference games" said Yearsley, who is looking ahead to conference play.
The Trailblazers will be home on Friday, Nov. 11th against Plattsburgh College at 2pm, and will travel to Dartmouth College on Saturday, Nov. 12th at 7pm.