Adams Returns for One Last Swing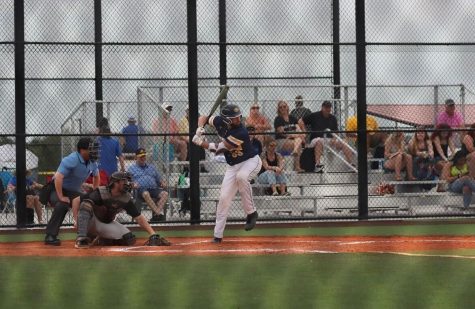 Graduate student Randy Adams is a household name when it comes to MCLA Baseball. Coming off his first full season with the Trailblazers, Adams was selected as a part of last year's All-MASCAC Second Team, after he batted .301, and led the Trailblazers in hits (37), home runs (4), and runs batted in (41).
His journey to the Berkshires started all the way out in Fullerton, California. Born and raised there, Adams first developed his love of baseball through his father and grandfather introducing the game to him and serving as his coaches in Little League.
"When I first found out that I loved baseball, was when my grandpa and my dad coached me in Little League for the first time," he said. "But I also feel like it was that factor of being with family and doing something without the girls in my family."
Adams continued to play the game growing up, making multiple All-Star teams in Little League and falling just one tournament away in order to qualify for the nationally televised Little League World Series, which features 11- and 12-year-olds from across the world playing the game.
Despite losing, his play drew attention from other coaches in the area and made him realize he had the ability to be really good at the game.
"For me, just being a part of that scenario gave me a little bit of confirmation as in I had travel ball coaches trying to get me to come and play for them, so I felt like that kind of meant like to me, like oh man, maybe I'm better at this then I thought I was," he said.
He would continue to play baseball at Santiago High School, but ultimately thought he would not continue his athletic career once he graduated, expressing self-doubts about his place and his ability to compete at the next level. In fact, Adams was out of baseball for an entire year at one point.
"I didn't play after my senior year for a full year, and me realizing that I really missed it… showed me that I wanted it," recalled Adams.
The rejuvenated love for the game would give Adams the motivation to try out and eventually make the Santa Ana College baseball team, which as recently as 2022, was ranked fifth nationally out of all CCCSIA baseball teams in the country. However, after a semester, the team asked him to redshirt, meaning he would be sitting out a year.
Wanting to play the game right away, Adams sought out teams to give him that opportunity, and it came in the form of Pine Manor College in Newton, Massachusetts. While there, Adams would get his first taste of NCAA baseball and perform well. In 58 games there, he would have 56 hits, along with 6 home runs, and drove in 41 runs.
Despite a whole new scenario being on the other side of the country, Adams went into it with no expectations and felt that the opportunity eventually paid off for him and his career in the long run. After just over two seasons, with his third cut short due to COVID and finishing his bachelor's degree in Early Education, Adams looked for a chance to play baseball and ultimately study for his master's degree. That was when MCLA came calling.
What sealed the deal for Adams was how Head Coach Mike Gladu, and then assistant coaches Eamonn Andre and Mitchell Holmes, focused on establishing a personal connection with him.
"Showing that you want someone, showing that you're trying to build a personal connection, rather than just making me another guy goes a long way, and I feel like Michael Gladu and Eamonn Andre and all the past coaches did a great job with that," said Adams.
Adams went on to transfer to MCLA in the 2021 spring semester, but after one series against Westfield State, he would have his second consecutive season canceled by COVID. Ultimately, he was upset by the fact he did not have the chance to play with some of his teammates but looked at the long-term picture of what he could do with his free time.
"It helped me grow individually as in getting my body right," he said. "I had two years to literally grind in the weight room, grind in the offseason, and for me, that was a big change because I also made a big change in my fitness journey as I dedicated myself to the weight room rather than dwelling on the season," he said.
Players and coaches took note of the hard work he put into changing his body and becoming the best baseball player he could be, and he was named a team captain for the 2022 season, where he would put together his best statistical season.
With the Trailblazers coming off an 11-27 record, they hope to get back to their winning ways for 2023, with Adams continuing to play a huge role and making sacrifices to help win. The team will move him from first base to shortstop and will continue to rely on his big bat to drive in runs.
In addition to this being his last season, Adams has many different aspirations about continuing his baseball career upon graduating but ultimately wants to use his experience of early education back in his hometown.
"I was thinking about possibly making an effort to play in Indy-Ball leagues or any type of Mexico or Germany or Canada leagues, but you know, it's a crazy world out there, and you can't predict anything," he said. "I do plan on teaching early education at some point and going back home and getting my life together," he continued.
Overall, Adams is extremely grateful for his time at MCLA, for what the baseball program has been able to provide him, as well as for how supportive the staff on the education side has been with helping him reach his long-term dreams.
"The faculty here is amazing on the education side," he said. "They're very helpful when it comes to time management with baseball and that makes a huge difference for me because the master's program isn't easy, but when you got people there to help you and they want you to succeed, it makes a huge difference," he continued.
Look for Adams and the Trailblazers next spring as they compete and look to bring back the MASCAC championship for the 2023 season.