Alumni Share Original Creative Writing Pieces at Reading Event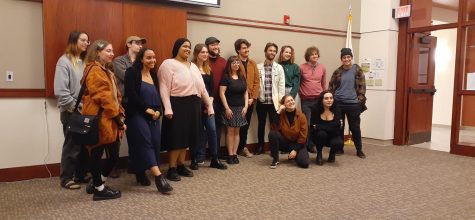 The Alumni Reading event, held on November 8th between 6 and 8 PM, yielded a huge turnout to see the 14 returning alumni gather to read their work aloud and talk about what they've been up to since graduation.
The alumni ranged in graduation date from 2015 to 2021, and each had their own unique experience, voice, and journeys to share with the audience. While paths varied in many ways, all found their own degree of success outside MCLA since graduation. The event's goal was to have those who came before the current generation of students return to help their younger counterparts navigate the "inevitable, existential quandary of what happens after college," as Professor Zack Finch said in his opening address.
Finch and Dr. Caren Beilin emceed the event and introduced each speaker one by one. The first, Erica Barreto '18, discussed her work with the Berkshire Black Economic Council and read hybrid pieces that evoked rich images even without their adjoining art pieces. "You can do a lot with your degree, the possibilities are endless," she said. Barreto also took time to speak positively of Berkshire County as a place for creative people to work and develop their skills. "There are a lot of organizations that will welcome you with open arms," she said, and made herself available to talk to about what kinds of opportunities are in this area for hopeful writers and other English degree pursuers.
Brett Belcastro '17 beguiled the audience with dystopian prose about guitar shaped forests and the defense of the Sonic fanbase among many other topics layered together. On MCLA, Belcastro stated "This place is honest." He urged writers currently thinking about writing outside of college to be honest with themselves and ask tough questions about why they are choosing to write and who will be reading their work.
"All the wonderful educators whose hands you're in will help you with that," he said, remarking that initiative is needed on the part of the writer.
Shannon Cahill '18 followed, allowing her meticulous poetry to wash over the crowd. Her situation was one of feeling burnt out by being creative after graduation, hopping to different careers only to find that the creativity she wanted to have for herself at home was no longer there due to her career using all of it up. "I kind of just found out that I didn't really like doing what I loved for my job," she said. Instead, she pivoted to working for Mass Audubon and got back her creative flame. "Finding a job that could inspire me to write filled my cup," she said.
Many other students stood behind the podium as the night went on. All the alumni stories were varied and demonstrated just how many different paths one can take with an English degree from MCLA onward. Their stories no doubt inspired those still here, and organizers expressed that it was a pleasure to have them back on campus to share their insights and what they've been up to since walking out of the black iron gates of MCLA.