SZA's SOS Tour: A Next Level Concert Experience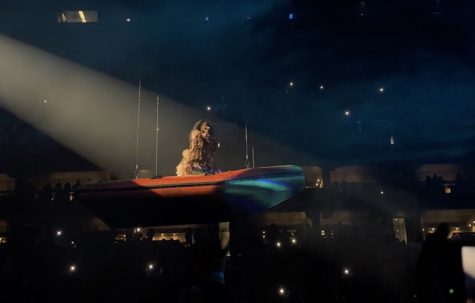 There's nothing like listening to an album after you've seen it live, there's new energy and emotions put into the songs that weren't there before, but SZA brought a new life to her newest album, SOS. 
Solána Imani Rowe, professionally known as SZA, started her first arena tour on February 21 after releasing her third album five years after the previous one. Her R&B / hip-hop / pop album, SOS, was released on December 9, 2022, and quickly became popular, sitting at the top of the Billboard charts at #1 for 10 weeks. 
I've attended multiple concerts before, but none can compare to the visual and overall experience that was showcased by SZA. 
For her first area tour, she blew it out of the water. The lights, the visuals on the screens, the smoke, the props, the outfit changes, and the floating above the crowd in a boat. 
TD Garden was packed, the shrieking began the second the lights dimmed and the giant screen on the stage changed to dark blue clouds while rising and revealing another large screen displaying moving ocean waves. Then there she was, sitting on a high diving board. 
Seamlessly transitioning from song to song she sang not only from her newest album but also popular songs from her 2017 album, Ctrl, bringing a lot of nostalgia for fans who have been with her since then. 
Each song was accompanied by a new prop, a new background on the screens, and her just having fun with the songs. Listening to a song sung differently than on the album brings so much to the experience and she had fun with it. Multiple songs included an electric guitarist who came out to accompany her, elevating the songs even more. 
The dancing, along with her backup dancers, was incredible with the accompanying background; you can tell how much time and detail was put into lining up every step. 
Keeping a nautical lost at sea theme, the props included a giant rusty boat that was used as a platform for her and her dancers multiple times, a gigantic, probably 30-foot anchor as a background prop but most importantly, a little rubber boat that she floated above the crowd in.
Throwing confetti to the crowd below and floating in a blue mist that resembled water, and a warm spotlight on her, she sang a mashup of songs and was interactive with the crowd, waving and explaining the meanings behind the songs. 
Visually, this was next level. She must not be scared of heights. 
Even when not on stage, an outfit change was filmed and projected on a large as she was mouthing a song, there wasn't a minute the show wasn't happening. I've never seen so many factors so seamlessly packed into one concert. 
Many songs did have a background track of her singing. I can't imagine doing multiple outfit changes and elaborate dances and having to sing every song, but I do wish more of it would have been just her. However, with a show like that, you can't complain, it's not all about vocals, it's about the experience. 
At the end of the concert, the lights came on and people started attempting to file out, but she came on stage to thank everyone, acknowledge that a lot of her crew was from Boston, and apologize for her voice being a little raspy. So not only was it an incredible performance but she was very genuine and nice. 
Overall, the show is a true experience that will leave you with a whole new mindset and meaning when you go to listen to the album again afterward, I honestly haven't stopped.