*BACON* Maple vs. Murdock: Who Deserves the Title of MCLA's Mascot?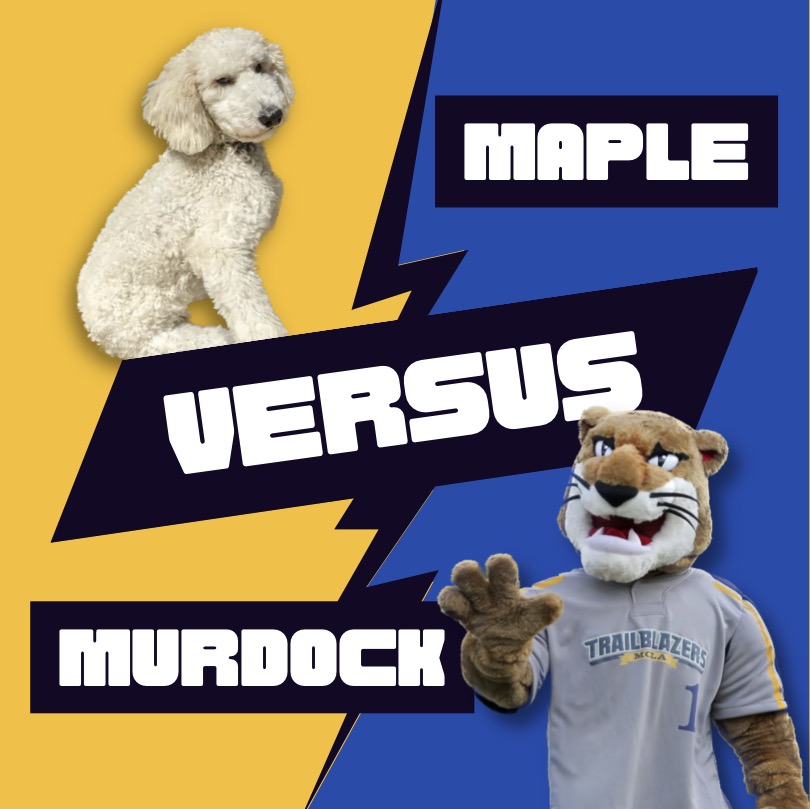 Disclaimer: The Bacon is the April Fool's Edition of The Beacon. The following story is purely for entertainment and is NOT meant to be taken as a serious news story!
There has been some chatter on campus about MCLA's mascot. Murdock, MCLA's official mascot and mountain lion, has some competition in the form of MCLA's campus comfort dog, Maple. Some of the student body believe that Murdock's rule must come to an end, and Maple should take his place. The question is: will Murdock keep his rightful throne, or will Maple overthrow him and become the queen of MCLA?
The Bacon visited the Amsler Campus Center to interview the student body about their opinions on this feud. Tensions were high, and chatter about the two could be heard all around the building. Various memorabilia could be seen, including Maple shirts with the slogan "Down with Murdock", and Murdock supporters wore crewnecks saying, "Do you really want a person in a suit as your mascot?" with "Vote Murdock" on the back. Various friendships have been severed and relationships have broken up, but the school is still unsure of how to solve this.
When asked who they believe should be the mascot, Marie Balan '23 declared, "Maple! I don't like Murdock." Some students took more of a neutral position.
Jack Anderson '23 asked, "Can two legends not, like, coexist?" Anderson continued, suggesting an idea that would work for both Murdock and Maple supporters. "Could we have Maple playing Murdock in the Murdock suit?" asked Anderson, "or could we get a tiny Murdock suit for Maple?"
Some students believe we should utilize democracy and have a formal election, while others want the two to follow in the footsteps of many Youtubers and have a televised boxing match.
When asked who would win this match, Tai '23 firmly stated, "Murdock. Maple ain't got no chance. Murdock is a mountain lion; Maple is a dog that I think is scared of [her] own shadow."
Another student, Naiyar Fraser '26, disagrees that Murdock would win in a fight. "Imma say Maple," said Fraser, "she's got that dawg in her, you know?" There are rumors that both Murdock and Maple are receiving boxing lessons, but they cannot be confirmed at this time.
The Bacon reached out to a representative for both Murdock and Maple for comments. A representative for Murdock wanted to emphasize that Maple is not a threat to his position.
"Murdock and his team are not worried," said the representative, "he's been the mascot since 2013. Maple was not even alive then. I doubt she's ever even heard "What Does the Fox Say" or had a favorite member of One Direction. Obviously, there are no worries to be had."
"Murdock's team made fun of Maple for not being alive in 2013?" asked a representative for Maple. "Why don't they focus on the fact that Murdock is old news," said the representative, "Maple is the voice of a new generation and will speak for the Gen Z students of MCLA. I mean, he probably answered these questions on his Motorola Razr V3xx. He should be in a retirement home, not representing MCLA as a whole."
"There's a lot of things being said about Maple that are false," declares her representative, "Maple is her real name, she has not committed tax fraud, and all of the things people say about her are completely and utterly untrue."
When asked if the rumor that Maple is just a human wearing a dog suit is true, her representative paused for a second before dropping the microphone and sprinting in the opposite direction. She denied the request for a follow-up.
The last week for the MCLA campus has been characterized by complete and utter chaos, and many are wondering if this feud will sort itself out. Hopefully, Murdock and Maple can come to an agreement in a reasonable manner. Maybe it is time for a change, but the student body will just have to wait and see.