*BACON* Blast From the Past: MCLA to be Called NASC Again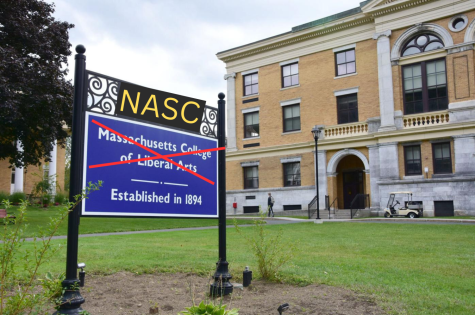 Disclaimer: The Bacon is the April Fool's Edition of The Beacon. The following story is purely for entertainment and is NOT meant to be taken as a serious news story!
Word around campus is that there's going to be crazy changes happening soon. I've heard demolition and I've heard the final revivals of our once great frats, I've heard parties will be up to par and maybe even a mascot change? Things are going to start switching up, and if you're interested in learning more, please keep reading.
Of course, MCLA enrollment dropped so low because everyone hated walking only 5 minutes to their classes instead of driving 20 minutes to another campus – who wouldn't? At last the prophecy, what students have been praying on, the revert back to North Adams State College (NASC 2.0) will soon be underway. Why would students be happy their college is changing the name, you might ask. Well, everyone knows the legendary Greek Life parties that were held every day of the week here at NASC, even Monday nights, heaven forbid. This name change will bring back the good old days of NASC and help to improve the overall vibe of the college. Let's party like its 1995! (Or like, whenever this college was still fun.)
Along with this long-awaited name change, there is a shocking side swipe, or should I say wrecking ball. Since MCLA themselves built Bowman, Eldridge, the Freel Library, and renovated Hoosac Hall and CSI, they've got to go. All those years ago, there were only a few buildings on this mighty 2 by 4 acred campus. Since MCLA was responsible for the building and production of our beautiful residence hall and our very necessary science building, NASC will choose to revert back to their original layout plan: lots and lots of land I guess, a single rickety building or two, and no parking whatsoever.
"I really hope we get more parking spots since a lot more buildings aren't going to be here anymore," said one student. Oh, poor Timmy, wanting to find good parking. Little do they realize that at NASC, about 90% of the population commutes. No parking now, and definitely no parking then – maybe they shouldn't have complained about Hoosac's parking lot so much.
Our trusty Trailblazers fearlessly play their sports and represent our mascot, Murdock the Mountain Lion, to the best of their ability – although for our winning streak (or lack thereof) I don't think it always works out as "the best". Murdock has, as a mountain lion of course, been one who has first blazed trails in the Berkshires. He represents being number one, which is what we as a school and as an athletics department strive to be, even if it's a D3 category. Apparently, the mountain lion is extinct in Berkshire County, just like our athletic trophies that line the halls. Word of mouth is that since MCLA will no longer be that, North Adams State College is bringing back its mascot too, which, a little strange for a 'Liberal' Art's College, is apparently the Mohawk? Of course everyone who is in support of this change are people who go out of their way to subscribe to the "Old West" channel, live on INSP 24/7 with the best classic western films, lord help cable channels.
We all will miss this certainly interesting institution, but North Adams State College 2.0 will open more doors than ever thought before, even if the building has a single door on it.