*BACON* President Jamie Birge to Join MCLA Baseball for Remainder of 2023 Season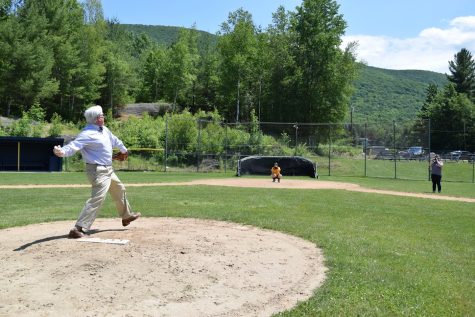 Disclaimer: The Bacon is the April Fool's Edition of The Beacon. The following story is purely for entertainment and is NOT meant to be taken as a serious news story!
As the MCLA Baseball team begins to enter play against MASCAC competition, they are continuing to find ways to improve. Sitting at a 6-10 record, the team was looking for firepower and experience and may have just found their answer. Announced via the MCLA Administrative Office, President Jamie Birge has decided to resign from the position, as he has chosen to take his talents to the Trailblazers team for the rest of the season.
Named team captain by coach Mike Gladu, Birge will be used as a utility player going forward, having experience playing all around the diamond. Previously, he played for his alma mater and fellow MASCAC opponent, Westfield State University, where he played for three seasons, and was named to the ALL-MASCAC First Team all three of those years. Because he never played his senior season due to injury, it allowed him one more season of eligibility, hence why he was able to join MCLA's team.
With his captain role, current captains Austin Rachiele '23, Bryan Rosario '23, and Randy Adams '23 have all graciously stepped down from their respective positions to allow Birge the ability to lead going forward. While initially disappointed, they, along with the rest of the team, are looking forward to what he can contribute.
"I'm really excited," said Adams. "While I am upset having to step down from the captain position after holding it for two seasons, I believe Birge will have the ability to do so much for the team, both on and off the field, he has MASCAC experience and will be able to bring an old school approach to the team.
"He obviously has the accolades, and it will only help us get better," said Rosario. "Having someone who previously played within the MASCAC is always great, and he can give us an insight into what to expect from both the pitchers and batters we face going forward. Overall, I think it'll continue to be a fun time with his presence from here on out."
Since the time Birge took over as President of MCLA, the Trailblazers have not had a single winning season during his tenure. That, along with a desire to come back to the game he grew up playing, were the factors going into the decision of him wanting to come out of retirement from the game and finish his career strong, along with getting MCLA back into the playoff picture.
Already, Birge has been a team player since joining the roster, with many of the players praising him for his leadership and camaraderie on and off the field.
"He's a fun presence to be around," said Rosario. "He works hard, but also knows how to have fun with the game and has been a great guy talking to all of us about his past experience and is always looking to not just help himself, but the rest of the team in anything we do during practice, during games, and just us hanging out."
If Birge plays well, you could potentially look for his name in the upcoming MLB draft, scheduled for July of this year. While typically, most players coming out of the draft are top high school and NCAA Division I players, Division III players have also been taken. Most recently, Dominic Perachi out of Salve Regina University in Newport, Rhode Island, was the lone Division III player taken in last year's draft by the Pittsburgh Pirates.
Birge will certainly look to make history, and the Trailblazers truly believe he can accomplish it.
"One hundred percent, I think he can do it," said Adams. "He has all the tools you want in a player. He can hit, hit with power, field well, has a cannon for an arm, and has great speed. Even on the mound, he pitches with velocity and can locate his spots, making the opposing batters look foolish, so I would seriously be surprised if he did not get picked in the upcoming draft."
For now, though, Birge and Trailblazer's main focus is the accomplishment of winning the MASCAC, which if they do, will qualify them for the NCAA Division III National Championship Tournament.
"We had a bunch of talent already, and Birge joining us adds another great piece to the puzzle," said Rosario. "I truly believe we can do it. We definitely have some tough opponents ahead, but if we just play our game and stick to the fundamentals, we can compete with anyone in the MASCAC and beyond."
Birge and the Trailblazers will look to make a statement, as he will make his Trailblazer debut when the team plays an out-of-conference game against Elms College on Tuesday night, followed by a three-game series against MASCAC foe Worcester State on Thursday and Friday.