SGA: Student Senators Still Needed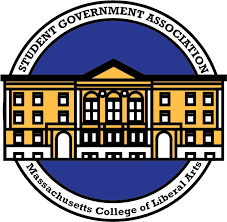 The SGA meeting of April 3rd was a return to regular business after spring break. All senators were present and accounted for. After doing the initial preparations, Senator Jack Vezeris led off by introducing Cindy MacDonald, the Director of Disability Resources here on campus.
MacDonald was on hand to discuss her role on campus for the betterment of disabled students. Nancy Trzcinski, her assistant director, was also introduced along with Jose, her seeing-eye dog. She gave a brief introduction and discussed her long career in human services and the qualifications she has obtained that make her a perfect fit for her position.
In a roundabout way, she is working at MCLA after graduating from it some years ago. MacDonald discussed how much has changed in terms of disability resources since she started working in the field. Currently MacDonald and her office intern are in the process of establishing a disability advisory council.
"That really gives a voice to students around the sports and services that come out of the disability office," she said, stating that the council would report to her on disability matters around campus. Having a group of students who are willing to report these kinds of concerns will make it easier on MacDonald and her staff when it comes to making changes that will benefit disabled students.
The council will also be rewriting the disability handbook and finding a consistent way to report disability issues on campus to the office of Disability Resources. MacDonald and Trzcinski have big plans for the office and will be revamping it to better address the needs and concerns of disabled students.
Both MacDonald and Trzcinski have been working with disabled students long enough to see many advancements be made on the behalf of those students, and at MCLA they plan on continuing to listen and act on student concerns. Students can contact the Office of Disability Resources at (413) 662-5314 with any questions.
EVP Callista Motta went over the Sam Gomez 5k which took place on April 1. Despite bad weather there was still a good turnout and plenty of money was raised. Vezeris established the SGA retreat for April 14th at 6 pm. The importance of the All-College Committee was stressed, as SGA members must be informed of what the committee decides, as it affects students. The constitutions for several clubs were also discussed, which led to lengthy discussions about what these are and are not allowed to do.
As the semester winds down, SGA prepares for a new semester of taking care of student concerns. As always, those students who wish to be a part of student government, to take part in an institution here on campus that directly affects student life, are always encouraged to contact President Ian Crombie or Executive Vice President Callista Motta regarding SGA and e-board interest. New students should seek out these kinds of opportunities if they are so inclined. It makes a difference here on campus, and more engaged students can only lead to good things.