"Soundbox" with Audrey Perdue, DJ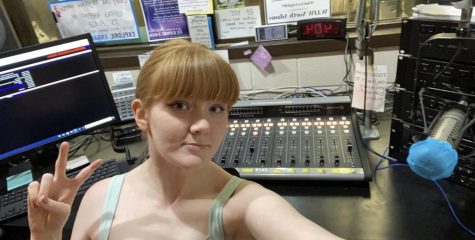 If you happen to take a walk on the third floor of the Amsler Campus Center around 4:30 pm on a Friday, you might have a chance to hear the sultry and feminine tones of Julia Jacklin or Katy Kirby's falsetto. "Soundbox", hosted by DJ Audrey Perdue '23, is an indie and alternative station.
"Listening to alternative rock, indie pop, and a touch of indie folk for balance," said Perdue, "A mixtape from the host to you, with love."
Perdue is a double major who is working on her Bachelor of Arts in English and Communications with a concentration in Broadcast Media. In addition to working as a Residence Area Security Monitor (RASM) at Hoosac Hall during the day, she also works as a DJ for our radio station, WJJW, where she hosts the show "Soundbox" on Fridays from 4-6 p.m.
When she first started her radio show, in her sophomore year, it was a requirement that all Communications students take radio practicum, but she fell in love with it somewhere along the line and never left. A lot of that has to do with the previous advisor to the station, Jim Niedbalski. Countless people have said that WJJW was Jim's baby and because he was so in love with the radio, it fostered their love for it even more.
Perdue emphasized the fact that because MCLA is a school on the smaller side, "as soon as you want to have a show, you can start having a show."
"It's a nice time," she said, "you get to spend two hours in peace instead of stressing about homework or school."
There might not be a personal connection to be seen between Perdue and her show, but for someone who is all the way from Kansas City, Missouri, she says that her show is a nice way to connect to her partner and her family from out here.
While it may be difficult to incorporate sometimes, Perdue says that it would be nice if they got more song requests from listeners during shows. The DJ and listener interaction can mean a lot for all parties involved, and for Perdue, who just really loves music, she gets to share her favorite songs with everyone who wants to listen to them.
There is absolutely nothing that she would change about WJJW, "it's just wonderful, it's one of the best things about campus," and she encourages everyone interested to start their own show because it becomes a very important piece of their daily life for more reasons than one.
There are still time slots open, anyone interested in hosting a show should contact WJJW President Liza Marsala at [email protected] or speak to Professor Darren Johnson at [email protected].